Say that you care – with the most unique gift they will ever receive. Give the gift of knowledge and discovery, and help your loved ones take the road to lasting health and well-being.
What goes through your mind when buying gifts? Making that person happy, giving them something they need or want? You can go one step further and give a gift with the power to change their lives.
Celebrate the uniqueness
Our genes are what makes us unique. From how we look to how we metabolise nutrients – our unique combinations of our genes direct all aspects of our life – from how we look to how our body functions.
And here lies the beauty of genetic knowledge – discovering which genetic variants we carry puts the controls into our hands. Be it sports, diet, or beauty; a DNA test can help everyone understand themselves and find their unique path to health and success.
There are many DNA tests – some reveal your ancestry, others your risk of diseases. But here, we're talking about a DNA test that shines a light on the person's unique genetic predispositions for lifestyle traits.
Think lactose intolerance, skin hydration, obesity, muscle mass, nicotine addiction, sleep pattern, response to stress, and many others.
4 benefits of DNA test as a gift
If you want to go for thoughtful, valuable, and unique, not many ideas beat a DNA test. Here are four reasons why a DNA test is a perfect gift:
For any occasion. Christmas, birthday, Mother's Day, Valentine's Day? No matter the occasion, the gift of health and well-being transcends seasons and holidays. And it also doesn't matter who is the recipient of your gift: parents, siblings, partners, best friend – a DNA test will have incomparable value for anyone who receives it (aged 18 or above).
Lifelong value. A DNA test is the one test you will never have to repeat. Because the instructions in your genes don't change, the results of a DNA test are valid for a lifetime.
Truly unique. You might hunt the stores for truly one-of-a-kind gift that will reflect the uniqueness of the person you're giving them to. But nothing comes close to giving them insights into their own genetics. Forget tot the dress they desire, the car they're saving for or the trip they want to take, and help them discover what their body needs. Armed with that knowledge, they can set the foundation for a long and healthy life.
Safe, simple, based on science. Accessing the wealth of information locked in our DNA is simpler than you can imagine. No blood or needles; the test requires only a saliva sample. It is based on the latest scientific findings, linking specific genetic variations with lifestyle traits such as your metabolism of caffeine or lactose, athletic predispositions, skin hydration, response to stress, and much more. The interpretation of results and the accompanying personalised recommendations are based on official guidelines, giving them high credibility and a stamp of trustworthiness.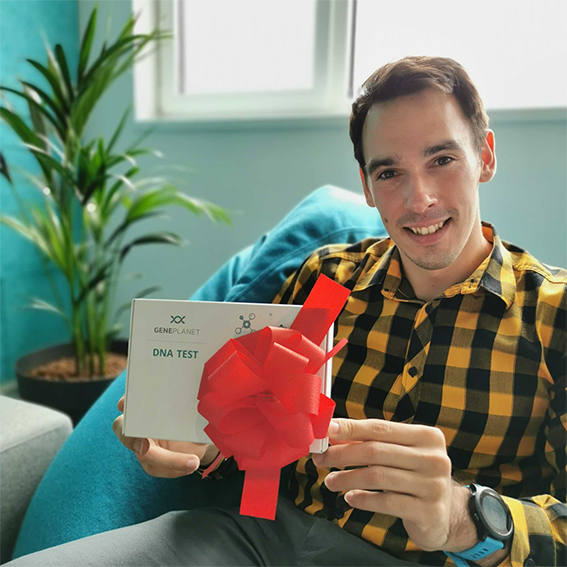 Personalised and actionable results
Knowing your genetic predispositions can help you direct your attention to where it can do the most good. How? Let's say that you're genetically predisposed to obesity, less intense perception of sweet taste, and muscles built for endurance.
To keep a healthy weight, you need to mind what you eat and be active. Because you know that your muscles are more suited for endurance activities, you can create a workout plan focused on running, cycling, and swimming.
Your less intensive perception of sweet taste might show as the habit of adding an extra spoonful of sugar to every tea, coffee, or dessert. Now that you know it, you can analyse your habits and see what you can change. With personalised recommendations based on your results and professional guidelines, it'll be a piece of cake.
This is a small example of what you – or the person receiving your gift – can learn. Your genes have a hand in traits relevant to every aspect of your life. You can choose between MyLifestyle DNA test which contains 70+ analyses that help you eat smarter, sleep better, get vital, and be healthier; or the MyHealth DNA test which uncovers your disease and infection risks.
If you want the best of both worlds, choose Premium pack which combines all 7 for insights into all key aspects of everyday life.
Don't worry – MyLifestyle DNA tests don't diagnose diseases
Our MyLifestyle DNA tests reveal your genetic predispositions for lifestyle traits and do not discover or diagnose diseases.
But understand that a genetic predisposition is not a certainty – having a genetic predisposition for obesity does not mean that you'll become obese, nor does having a fat-burning gene ensure a lean waist.
So having an unfavourable predisposition is not a reason for alarm. As the word itself suggest, a predisposition is one of many possible outcomes. But if you combine them with personalised recommendations in our test, you can change direction and head towards long-term health and longevity.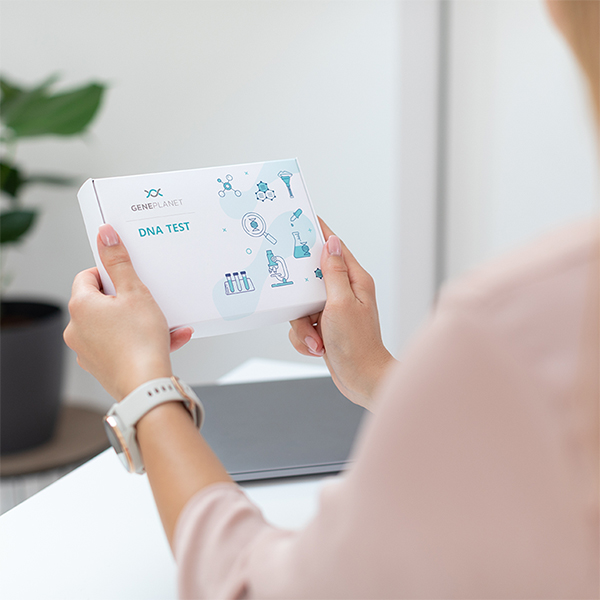 You buy it, they claim it
Ready to blow them away with your gift? Choose the package(s) on our website, and then you have two options:
Send the test to their address: when completing a purchase, you can choose to have the test delivered to any address you like. Simply enter their address under "Shipping address".
Buy the test(s) yourself and give them in person. The tests you order and receive are unregistered. Only when you activate a test on our platform ("Activate test") does it become truly yours. So you can order and receive the test kits yourself, wrap them, add a loving note or a sweet something, and give them to their new owner in person.
So the next time you have gifts on your mind, choose a DNA test – a gift that keeps on giving.