That's why cancer risk awareness is so important and as we are in Pink October, the breast cancer awareness month, we decided to dedicate an article to breast cancer testing.
"Life comes with many challenges. The ones that should not scare us are the ones we can take on and take control of." – Angelina Jolie
As you probably know, Angelina Jolie underwent genetic testing and found out that she carries a pathogenic mutation in the BRCA1 gene. This mutation significantly increases one's lifetime risk of developing breast cancer (by approximately 85%) and ovarian cancer (by approximately 54%).
Miss Jolie decided to undergo preventive surgery, a prophylactic bilateral mastectomy (removal of breasts), to reduce her disease risk to a minimum. She made this very private decision public in order to raise breast cancer risk awareness. In the months following Miss Jolie's revelation there was a 2.5-fold increase in uptake of prophylactic bilateral mastectomy in the UK in the following 24 months (83 procedures compared to 29 in the same period before Miss Jolie's announcement). That means that more than twice as many women at high risk of developing breast cancer underwent preventive treatment. This became known as the "Angelina effect".
The first step of Miss Jolie's journey to prevent breast cancer was taking a genetic test. This article will inform you when you should consider it and how breast cancer testing looks like.
Which type of cancer is hereditary?
Up to 15% of most cancer cases happen due to inherited genetic variants. When it comes to breast cancer risk, the most important inherited gene changes that lead to hereditary breast cancer are in breast cancer 1 (BRCA1) and breast cancer 2 (BRCA2) genes.
What do these genes do?
Normally, the BRCA1 and BRCA2 genes protect you from getting certain cancers. They are responsible for DNA repair mechanisms in the cell. If one of the BRCA copies is faulty, due to the presence of a pathogenic variant, the damage may not be completely repaired. Pathogenic variants in BRCA1 and BRCA2 genes are therefore associated with an increased risk of developing hereditary cancer.
Women with a BRCA gene change have a greatly increased risk of getting breast cancer, as well as an increased risk of ovarian cancer, pancreatic cancer, and possibly some other cancers. For instance, a pathogenic mutation in the BRCA1 gene raises a woman's chances of developing breast cancer up to 85%.
Men with a BRCA gene change are at increased risk of breast cancer (although this risk is lower than in women to begin with), prostate cancer, pancreatic cancer, and possibly some other cancers.
If you have a family history of breast cancer, you have a higher risk of getting breast cancer yourself. Fortunately, that doesn't mean that you have automatically inherited a gene change that greatly affects cancer risk.
Still, an inherited gene change is more likely in women with a strong family history of breast cancer, especially if the family history also includes certain other cancers, such as ovarian, pancreatic, or prostate cancer. The risk is also affected by:
The closeness of affected family members – cancer in close relatives (parents or siblings) is more concerning than cancer in more distant relatives, although this is also not negligible.
The number of family members affected.
The age when your relatives were diagnosed. Younger age is more concerning.

When should you consider breast cancer testing?
There are expertly developed guidelines for which women and men should consider genetic testing for BRCA gene mutations. Not all doctors agree with them, so you might want different opinions as there are no truly universal guidelines.
However, the general guidelines that do exist are still helpful and include two main groups of people:
Women who have a personal history of breast cancer. Especially if:
You were diagnosed with breast cancer at a younger age (especially if you have triple-negative breast cancer).
You have been diagnosed with breast cancer a second time (not a recurrence of the first cancer).
You are of Ashkenazi Jewish descent.
You have a family history of breast cancer (especially at a younger age or in men), ovarian cancer, pancreatic cancer, or prostate cancer.
Other groups of people who are at higher risk for BRCA mutations, including:
People with a known family history of a BRCA mutation.
Women diagnosed with ovarian cancer or pancreatic cancer, or men diagnosed with breast cancer, pancreatic cancer, or high-grade or metastatic prostate cancer.
People with a family history of breast cancer at a younger age, more than one family member with breast cancer, or breast cancer in a male family member.
People with a close family member with a history of ovarian cancer, pancreatic cancer, or metastatic prostate cancer.
While these guidelines are helpful, they do not mean it's meaningless to undergo genetic testing even if you are not in one of the mentioned groups of people. There are many cases of breast cancer that could be detected but are not connected to the family history of cancer.
Mary-Claire King, PhD, professor of medical genetics at the University of Washington, says: "Roughly 50% of patients who carry an unambiguously damaging mutation have no close family history. Every breast cancer patient we identify after she develops cancer clearly represents a missed opportunity for prevention."
Professor King firmly believes that we should offer population screening of BRCA1 and BRCA2 genes to all women at age 30 as facilitating early detection of cancer leads to prompt action, cheaper treatment, and a high survival rate of the patients.
It's very important to understand what genetic testing can and can't tell you and to carefully weigh the benefits and risks of genetic testing before getting tested. Testing can cost a lot, and it might not be covered (or might be covered only partially) by some health insurance plans – especially when we are talking about direct-to-consumer tests.
This brings us to the consequences you should consider.
Breast cancer testing risks
With modern methods, there aren't really any health risks involved as the test requires only a sample of blood or saliva.
However, a positive result might have emotional, financial, medical, and social consequences.
If you test positive for an inherited genetic mutation, you may face:
feelings of anxiety, anger, sadness, or depression,
concerns over possible insurance discrimination,
strained family relationships over learning of a familial genetic mutation,
difficult decisions about preventive measures that have long-term consequences,
feelings of inevitability that you'll get cancer.
That's why most people considering genetic testing undergo counselling. A genetic counsellor can help you understand what the results could mean for your health, help you decide whether genetic testing is right for you, and recommend a specific set of genetic tests based on your family history.
How does genetic breast cancer testing work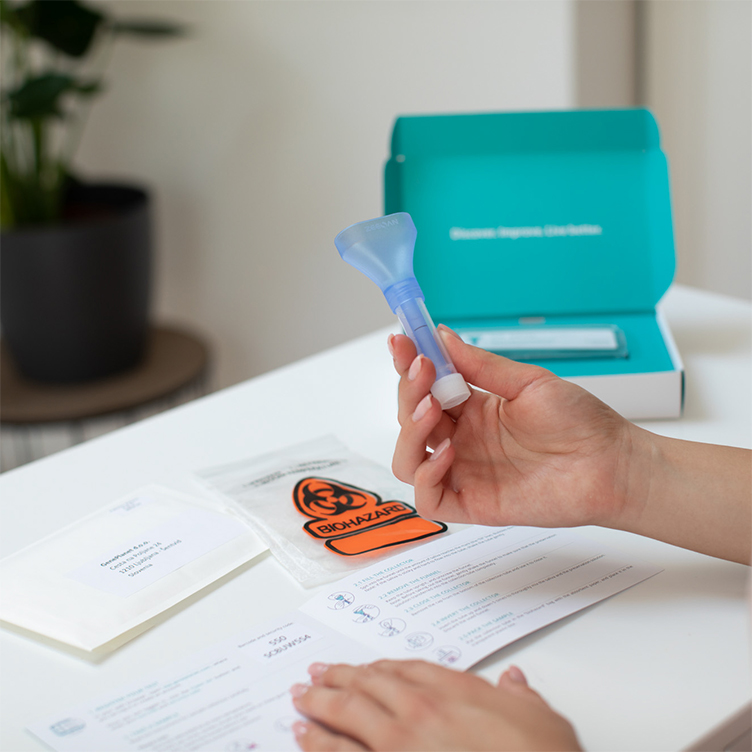 Genetic testing can be done on samples of blood or saliva, or from a swab of the inside of a cheek. The samples are sent to a lab for testing.
There are many different possible mutations in the BRCA genes. Testing can be done to look for one (or a few) specific mutation(s), or more extensive testing can be done to look for many different BRCA mutations. The approach to testing depends on the situation.
For example, if someone is being tested because they have a family member with a known BRCA mutation, testing might focus only on looking for that specific mutation. If people have Ashkenazi Jewish ancestry, testing might focus on the specific BRCA mutations that are most common in this group of people. But if there's no reason to suspect a specific gene change, testing will likely look for many different mutations. Some tests will even look at all possible known mutations regardless of the situation.
While in the past, breast cancer genetic testing only checked for mutations in BRCA1 and BRCA2 genes, now it also tests for multiple other high-risk gene mutations. This is called expanded panel testing or multi-gene testing.
Here's the process behind Cancer Screen by GenePlanet, which is a direct-to-consumer test and only requires a 2 ml saliva sample. You submit your sample to the doctor along with the necessary documentation.
Cancer Screen tests your genetic predisposition for developing breast, ovarian, prostate, colorectal, and other types of cancer.
First, your DNA is isolated from the saliva sample and then it's analysed with the latest next-generation sequencing (NGS) technology. The number of genes GenePlanet tests differs according to the test package you select.
Cancer Screen BASIC analyses the entire length of BRCA1 and BRCA2 and is a suitable choice only when we know there is a pathogenic mutation in BRCA1/BRCA2 gene present in the family.
Cancer Screen STANDARD analyses the mutations in BRCA1 and BRCA2 genes, along with the mutations in 19 additional genes which represent an increased risk of developing breast and ovarian cancer.
Cancer Screen PLUS is one of the most extensive cancer risk tests. It analyses up to 49 genes for 17 types of hereditary cancer and is suitable for both women (PLUS WOMEN) and men (PLUS MEN).
Cancer Screen results are available to you 4 weeks after sample collection. You get the results and their interpretation at your doctor's office.
Cancer Screen tests for genetic changes that are present in every cell of our body (germline mutations), so taking the test once in your life is enough.
Keep in mind that genetic testing will not identify the cause for some hereditary breast and ovarian cancers because the genes affected in these cancers are not yet known.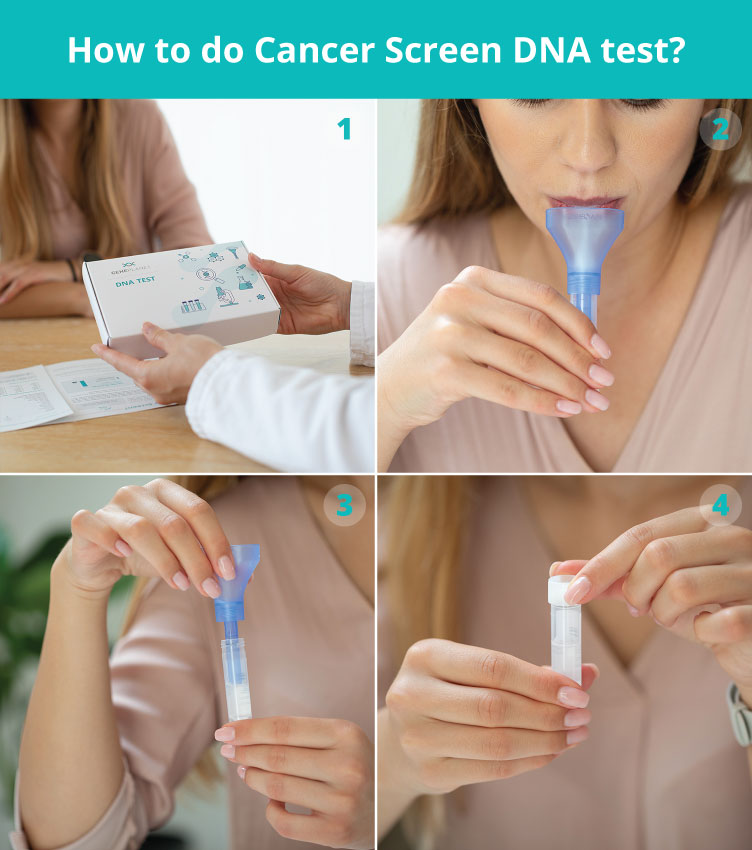 Possible test results
The genetic test results you can get from taking a genetic test like Cancer Screen by GenePlanet are as following:
Positive test result
A positive test result means that a pathogenic variant that significantly increases the risk of the development of hereditary cancer was detected. Therefore, your risk of developing cancer is higher than average. A positive test result doesn't mean that you will certainly develop any kind of cancer in the future.
Next step: genetic counselling, where further individualised prevention steps will be determined.
Negative test result
A negative test result means that no pathogenic variants, associated with an increased risk of hereditary cancer, were detected. Your estimated risk of developing cancer is equal to the average risk in the general population. A negative test result doesn't mean that you certainly won't develop any kind of cancer in the future.
Next step: a healthy lifestyle and regular checkups according to the general population cancer screening programs.
Variant of unknown significance (VUS)
A genetic variant may be detected for which a definite explanation is not available. Genetic research is making significant progress, continually improving our knowledge of cancer risk variants. This makes it likely that, over time, a variant of uncertain significance will be better understood and recognized as a positive or negative result.
Next step: once a year, you can request a reclassification of a VUS. If it's reclassified as a positive result, you are entitled to genetic counselling with no additional charge.
Is direct-to-consumer genetic breast cancer testing reliable?
Direct-to-consumer genetic tests have made preventive testing widely available and easier to perform as you can do some from your home. However, Cancer Screen by GenePlanet is not among them as we think it's highly beneficial that a doctor is present when you decide to take the test. Although there are some questions about standards and professionalism for some of these test, especially the ones you can perform at home, we can guarantee that Cancer Screen by GenePlanet is:
Comprehensive
The results include specific information on every discovered pathogenic variant and its impact on the cancer development risk. The results also tell you how the presence of variants can affect your relatives. Cancer Screen includes detailed guidelines for further steps that can be discussed with your doctor.
Reliable
Cancer Screen was validated by an independent study carried out in cooperation with the pharmaceutical company AstraZeneca and St. Mary's Hospital, the leading British institution in the field of oncology. The blind clinical study determined all tested genetic variants with 99.4% accuracy.
Professional
Cancer Screen is performed in an ISO 15189 accredited laboratory, which ensures the integrity of each result. All pathogenic variants detected using NGS are confirmed with either Sanger sequencing or qPCR.
Genetic testing is one of the steps that can help you to take preventive measures and lower the risk of breast cancer. We hope this article has answered some of your questions about the process. If you have any unanswered questions, feel free to contact us and we'll do our best to answer them as quickly as possible.
Sources: