Our genes are in the spotlight of researchers because they hold great potential for the promotion and protection of health. Scientists are researching genetic blueprint to hopefully find a cure for numerous diseases, but their efforts have direct and immediate benefits for individuals like you.
And we have taken those scientific findings, and distilled them into valuable information, accompanied by concrete and personalised recommendations.
Meet our Home DNA tests, the essence of genetic research brought to people. You can unravel your genes with only a saliva sample, taken in the comfort of your home, and enjoy the benefits of knowledge.
Why DNA tests?
And why should you even pay attention to something as vague as DNA?
Consider these situations …
• Coffee seems to have a zero effect on you while your friends take one sip and can't stay still.
• When the going gets tough, you become a stressed-out mess while others seem unfazed by any challenge thrown their way.
• You sweat at the gym but see no results.
• You eat healthily, but the kilograms keep piling on.
• You can't remember the last time you had a good night's sleep.
Do you find yourself in any of those? The reasons behind those differences – and many more – might be locked inside your genes.
And Home DNA tests have the key!
They are simple, painless, and effective. You order them on our website, take a sample at your own leisure, and send it back to us. No blood, no needles, only one saliva sample!
If you want to know more about the science behind Home DNA tests, head to our blog here, but if you're ready to discover our range of Home DNA tests, read on.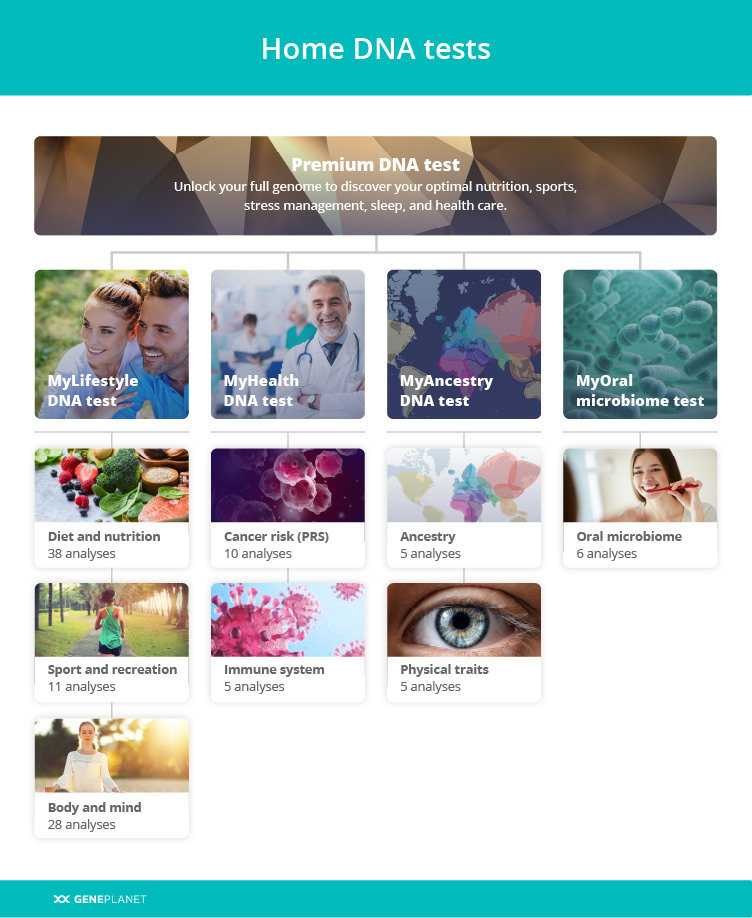 1. Premium DNA test
If you're one of those people who need a wholesome picture, Premium is for you. It features all our Home DNA tests wrapped into one comprehensive journey into your genes. Not only that – you also benefit from lifetime updates, courtesy of WGS (more on the benefits of whole genome sequencing here.)
With a combination of MyLifestyle, MyHealth, MyAncestry, and our microbiome test MyOral, you get a 360° picture of your health and wellbeing!
The Premium DNA test will reveal:
• what to eat to control your weight,
• how to train for optimal results,
• how to manage your stress levels,
• how to get a good night's sleep every night,
• your disease risk to prevent them from developing,
• how the microbiome can help you improve oral hygiene.
If, however, you're not ready to learn everything there is just yet, you can choose individual tests!
2. MyLifestyle
MyLifestyle will tell you more about how genes can help you level up your life. More than 70 analyses uncover a broad selection of insights covering all key areas of your lifestyle: sports, nutrition, stress, and sleep.
The test consists of three chapters:
Diet and nutrition, focusing on your … well, diet and nutrition! Find out if you're a proud owner of a fat-burning gene, if you're likely gluten or lactose intolerant, how likely you are to regain weight, your risk of being overweight, and 33 more insights that can help you in your weight management journey.
Sport and recreation
Your predispositions for endurance, power, lean body mass, muscle cramping, post-exercise recovery, and much more show how to train according to your genes. If your genes don't know it, who will?
Body and mind
This chapter will guide you towards better stress management, taking better care of your skin, and controlling your sleep patterns. With more than 25 analyses, it's the most comprehensive chapter on your body and mind in the market.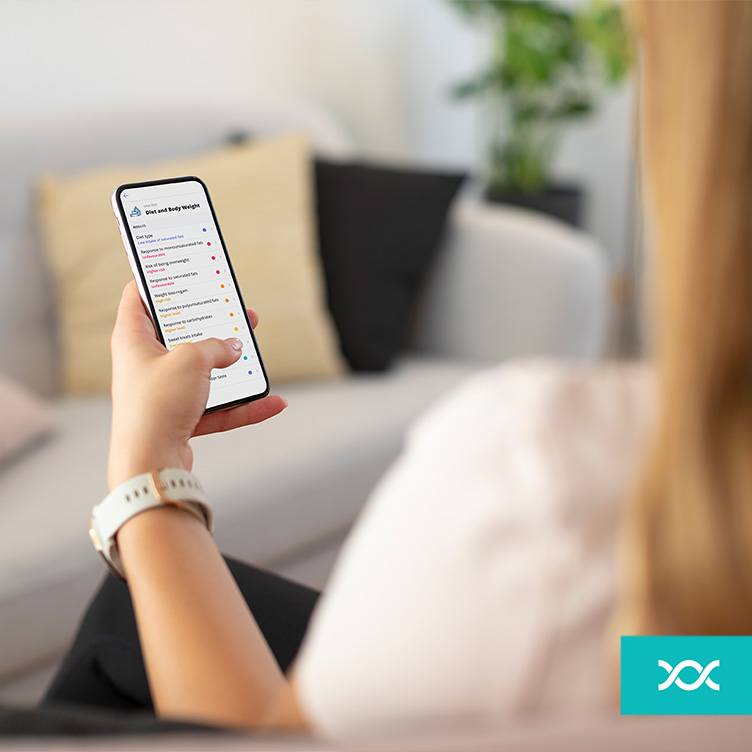 3. MyHealth



MyHealth focuses on your health and disease risks. Yup, your genes influence that too!
It can reveal your risk of different types of cancer, a severe form of COVID-19, and other health conditions.
MyHealth test consists of two chapters:
Cancer risk (PRS) takes a polygenic approach to disease risk assessment (hence the PRS in its name!). In simple terms, we look at many genetic variations (polygenic means from many genes) that individually have no significant effect. But when combined, those so-called polygenic risk factors can significantly increase or decrease your risk of disease. Learn more about PRS here.
Cancer risk (PRS) can tell you about the risk for 10 different types of cancer, including breast, colorectal, prostate, and thyroid cancer. Based on your results, you get concrete information about what you can do to manage your risk – at what age should you consider screening and what lifestyle changes might help you lower your risk.
Immune system will reveal your COVID-19 severity and susceptibility, Norovirus resistance and Malaria (P. vivax/knowlesi) resistance. Don't know your ABO blood type? MyHealth shows that too!
4. MyAncestry
Ready to travel into your genetic past? MyAncestry has your ticket ready!
MyAncestry allows you to discover your genetic history. Follow the path of your genes over thousands of years, learn how much DNA you share with Neanderthals, and explore your genetic predispositions for a selection of interesting physical traits.
Read more about ancestry and ethnicity here.
5. MyOral microbiome test
You probably know that humans share our bodies with millions of microscopic organisms – microbes. Have you ever wondered about them? Wonder no more – it's time to meet them!
MyOral microbiome test gives you a peek at the microbes living in your mouth. But it goes beyond curiosity – the results help you assess your oral hygiene and diet.
And, as with all our tests, you get recommendations based on your results. How to floss & brush, what to eat, what herbal remedies can help your teeth stay healthy; MyOral covers it all!
Psst – MyOral is not a Home DNA test; instead, you can find it on our website under Microbiome tests. But since it is part of Premium, we decided we need to introduce it as well! Find out more about MyOral here.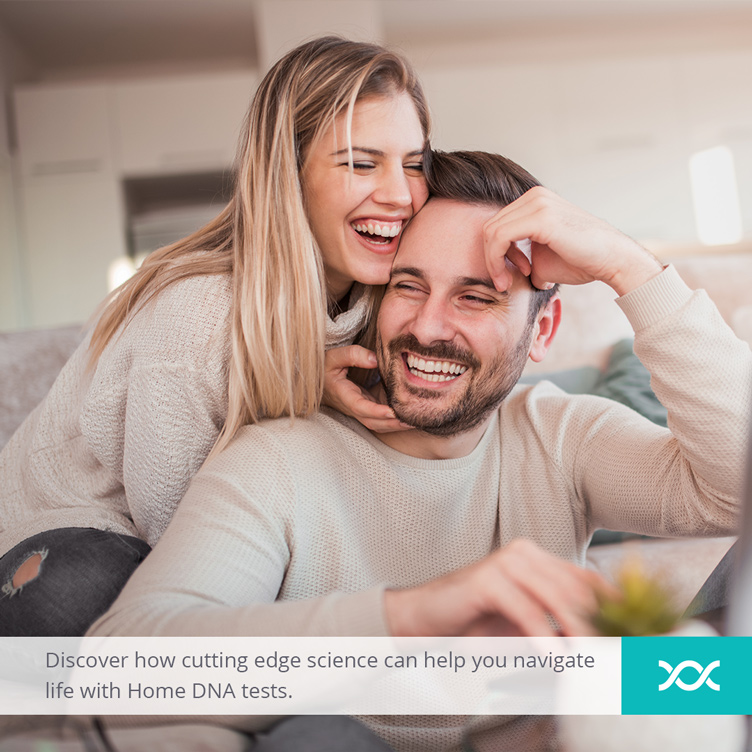 How do I do the test?
It's simple, safe, and secure! Below is the breakdown of the four-step process!
You've just bought your Home DNA test, and the testing kit will be at your address in a few days. When you get it, there are two crucial steps – activating your test and taking a sample.
Begin by

scanning the QR code

on the instructions. Next, you will have to

enter the barcode

and

security code

of your kit. If you don't have one already, you will also

create a user account

for our desktop or mobile app. There you will receive your results.
Now comes the fun part:

taking a DNA sample

. Carefully follow the instructions, but we assure you it's super simple – you just fill the collector with saliva!

Next up:

packing and sending

the collected sample back to us.

And now, you wait! We know 5 weeks sound loooong, but we want to ensure the best quality, so please bear with us. You can also

track your test's progress

in your account on GenePlanet desktop or mobile app.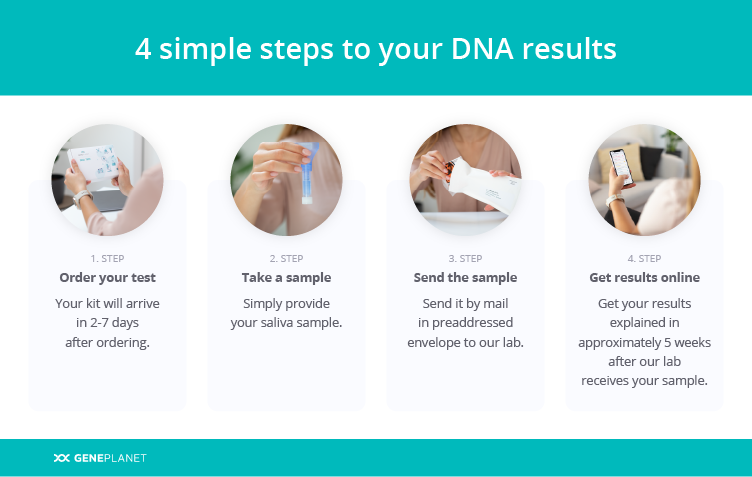 While you wait … why not get ready with some quality reading?
We recommend tips for understanding your DNA results, brushing up on the science behind genetic tests or diving into the benefits you'll enjoy because our tests use whole genome sequencing. One of the perks is – no need for additional testing! Yes, you heard right …
Did you choose MyLifestyle, MyHealth or MyAncestry, but you now want to know more? No problem. To get additional tests or, better yet, upgrade to our ultimate bestseller, Premium, you don't need to provide another sample. Courtesy of our awesome WGS method!
Once you provide a DNA sample, we sequence your entire genome. So when new insights come to light – with your genome already mapped out – we only unlock new information and present it to you immediately. Talk about convenience!
Home DNA tests are super simple to do, but that doesn't mean they aren't supported by science.

Our in-house experts put quality and reliability first, so all the analyses are backed by reliable evidence and quality scientific research. This gives our products an indisputable seal of credibility. We list more benefits in our blog post 10 reasons to do a MyLifestyle DNA test.
Ready to start? Go Premium and get full access to your genes!