Certain genetic conditions are hereditary and can pass from parents to children. Others occur randomly and can affect the wellbeing of entire families. With the help of technological advances, we can now anticipate and predict their presence.
Because our Medical DNA tests deal with conditions that can have a serious impact on individuals' life, their results must be presented and explained by a certified health professional. That is why to perform any of them, you need a doctor.
But don't worry – no matter which test you choose, we help you locate your nearest provider and guide you through the entire process!
Now let us introduce our Medical DNA tests and explain how each can help you.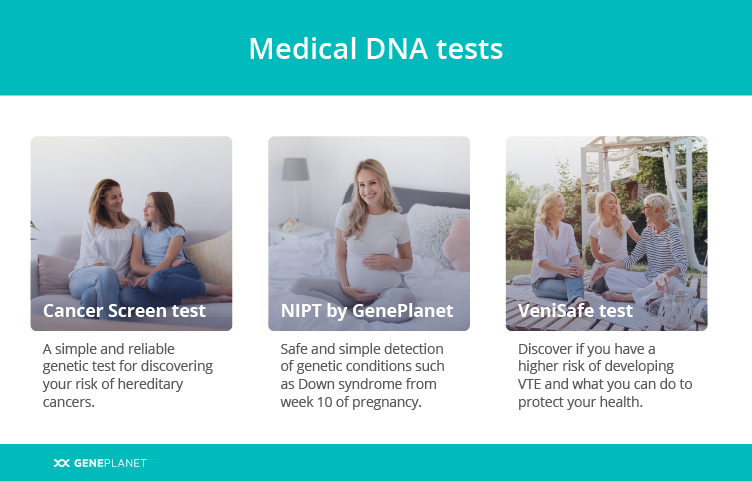 1. NIPT by GenePlanet
NIPT (non-invasive prenatal test) detects a wide range of genetic abnormalities in the baby. It is appropriate for any future mommy wanting a calm pregnancy.
The test can be performed as early as gestation week 10 with only a blood sample from pregnant woman's arm.
NIPT by GenePlanet is exceptionally accurate. For the most common trisomies present at birth (Down, Edwards, and Patau syndrome), it has more than a 99% detection rate based on a study of nearly 147,000 pregnancies.
Your samples are analysed in our own laboratory, located in Europe, where we employ only qualified and certified laboratory staff.
Up to now, more than 6,000,000 pregnant women worldwide have already done the NIPT by GenePlanet test and spent their pregnancy with one worry less.
Discover more about NIPT by GenePlanet here.
2. Cancer Screen
The world's leading medical authority, World Health Organization, states that up to 50% of cancer cases could be prevented. And even though risk factors such as obesity, smoking, and other unhealthy habits are strong contributors, sometimes your genes play a crucial role.
If you carry a pathogenic mutation, your chances of developing cancer increase drastically. Those mutations are very rare. But if they are present and you identify them before the disease has a chance to develop, it can literally save your life!
As one of the most comprehensive cancer risk assessment tests on the market, our Cancer Screen ensures 99.4% accuracy in analysing up to 79 genes for 24 types of hereditary cancer. It is suitable for both women and men.
And the best part? You only need a saliva sample! Learn more about Cancer Screen here.
3. VeniSafe
VeniSafe helps you discover if you have a higher risk of developing venous thromboembolism (VTE) and what you can do to protect your health.
VTE occurs when a blood clot forms in the vein and is the world's third-leading cardiovascular condition. It's dangerous, potentially deadly, and can occur without warning signs—but it can often be prevented. With VeniSafe, you can learn your risks and prevent the occurrence of VTE.
Follow this link to learn more about the VeniSafe test.
There are no shortcuts when it comes to health. Prevention is here, and it works – but it's up to you to take advantage of it! Start now for a healthy tomorrow.