Discover what sets NIPT by GenePlanet apart from other NIPT tests and makes it a preferred choice of expectant mommies all over the world.
1. The biggest validation study
Independent studies have shown that NIPT by GenePlanet detects the three most common trisomies with a 99% detection rate.
This includes the most extensive study on the use of NIPT in clinical practice. The study, published in the medical journal Ultrasound in Obstetrics & Gynecology, included 147,000 pregnant women and confirmed NIPT by GenePlanet test's high reliability.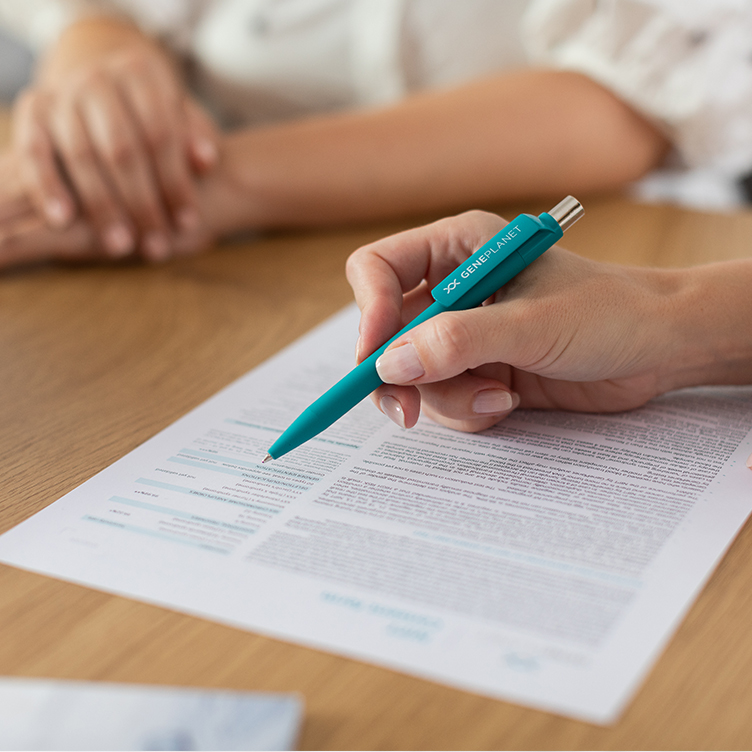 2. The largest panel of abnormalities tested
You have three options to choose from in singleton pregnancy – NIPT by GenePlanet Basic, Standard, and Plus. There is also Twin package for women expecting twins.
NIPT by GenePlanet Plus package includes the largest panel of abnormalities on the market. Along with the most common trisomies (21, 18, and 13), it can detect:
trisomies 9, 16, and 22,

sex chromosome aneuploidies,

60 deletion/duplication syndromes.
3. The best statistics
Our claims are supported by concrete numbers. Let's see how statistical parameters highlight exactly how NIPT by GenePlanet fares compares to other tests.
a) THE HIGHEST POSITIVE PREDICTIVE VALUE (PPV*)
PPV informs you about the certainty of a positive test being truly positive. In other words: the higher the PPV number, the fewer unnecessary invasive diagnostic procedures (such as amniocentesis) will be performed.
Compared to combined screening and competitors, NIPT by GenePlanet has the highest PPV.
b) LOWEST RESAMPLE AND UNSUCCESSFUL ANALYSES
NIPT by GenePlanet test has an only 2.18% resample rate and less than one per cent share of unsuccessful analyses (0.098%).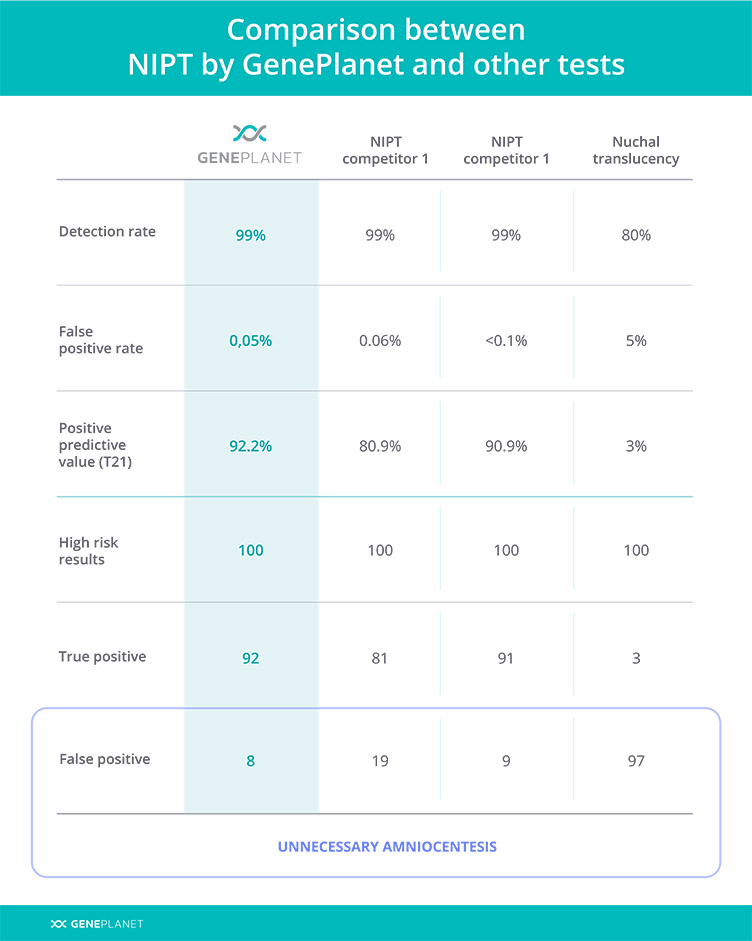 4. Own laboratory
Your blood samples are analysed in our own laboratory, located in Europe.
The lab is ISO-accredited, GDPR-compliant and subjected to rigorous quality control. We employ only qualified and certified laboratory staff.
This gives us comprehensive control over the entire analysis process, ensuring that you get the highest level of quality and data security.
5. The reimbursement of amniocentesis
All high-risk NIPT results should be confirmed with the diagnostic method – amniocentesis. Despite the high sensitivity and reliability of the test, NIPT are screening tests, carrying a slight chance of false-positive results. That is why each high-risk result needs to be confirmed with amniocentesis. In case your insurance company will not cover the costs of amniocentesis, we will.
6. Cutting-edge methodology
The NIPT by GenePlanet effectively resolves the difficulty in measuring small increments in the specific chromosome DNA concentration through the use of massively parallel sequencing technology (MPS). This means that our test sequences millions of fragments of both fetal and maternal cell-free DNA from each sample.
By using whole genome sequencing technology and four different bioinformatic analysis pipelines, our NIPT test is able to analyse data across the entire genome and compare chromosomes in the tested sample to the optimal reference chromosomes to accurately determine the presence of a genetic abnormality.
As opposed to the 'targeted sequencing' methods employed by some other NIPT tests, our methodology allows for highly accurate results regardless of the clinical symptoms of the patient and a broader range of testing options.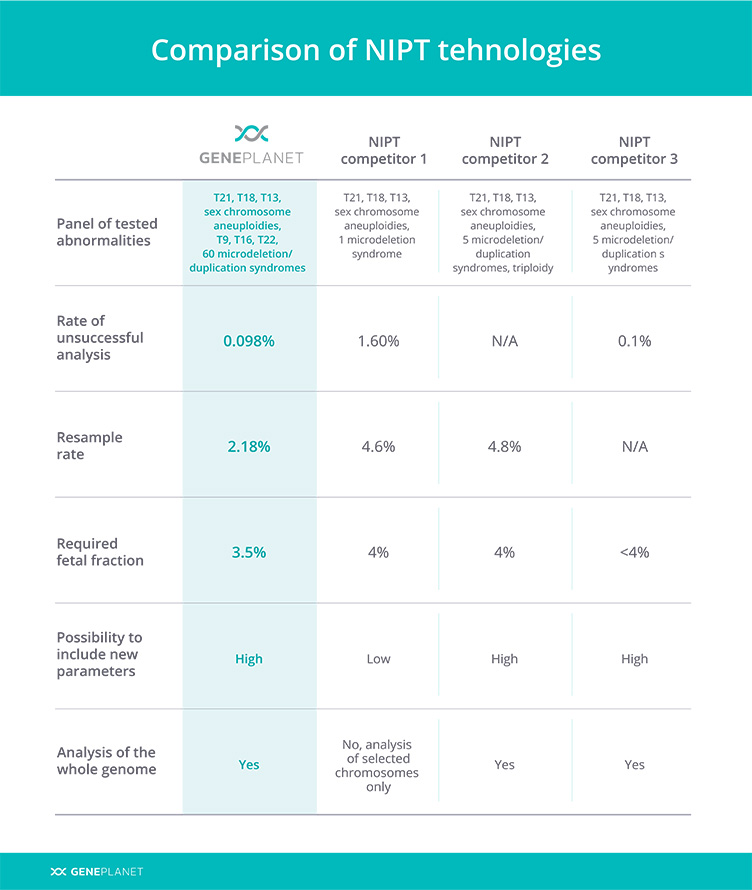 7. See the results for yourself
As the first NIPT provider, we've made it possible for you to see your test results online, on a secure digital platform. The feature is already available in some countries, and we're adding more all the time.
Usually, the doctor who performed the test notifies you about the results. At that moment, mommies are usually so anxious that they only want to hear one thing – your baby is ok.
But many would love to see the details for themselves or read through their results later at their own leisure. Now you can! After the doctor informs you about the result, you will receive an email with a secure link to our platform. There you will create an account and have your NIPT by GenePlanet results waiting.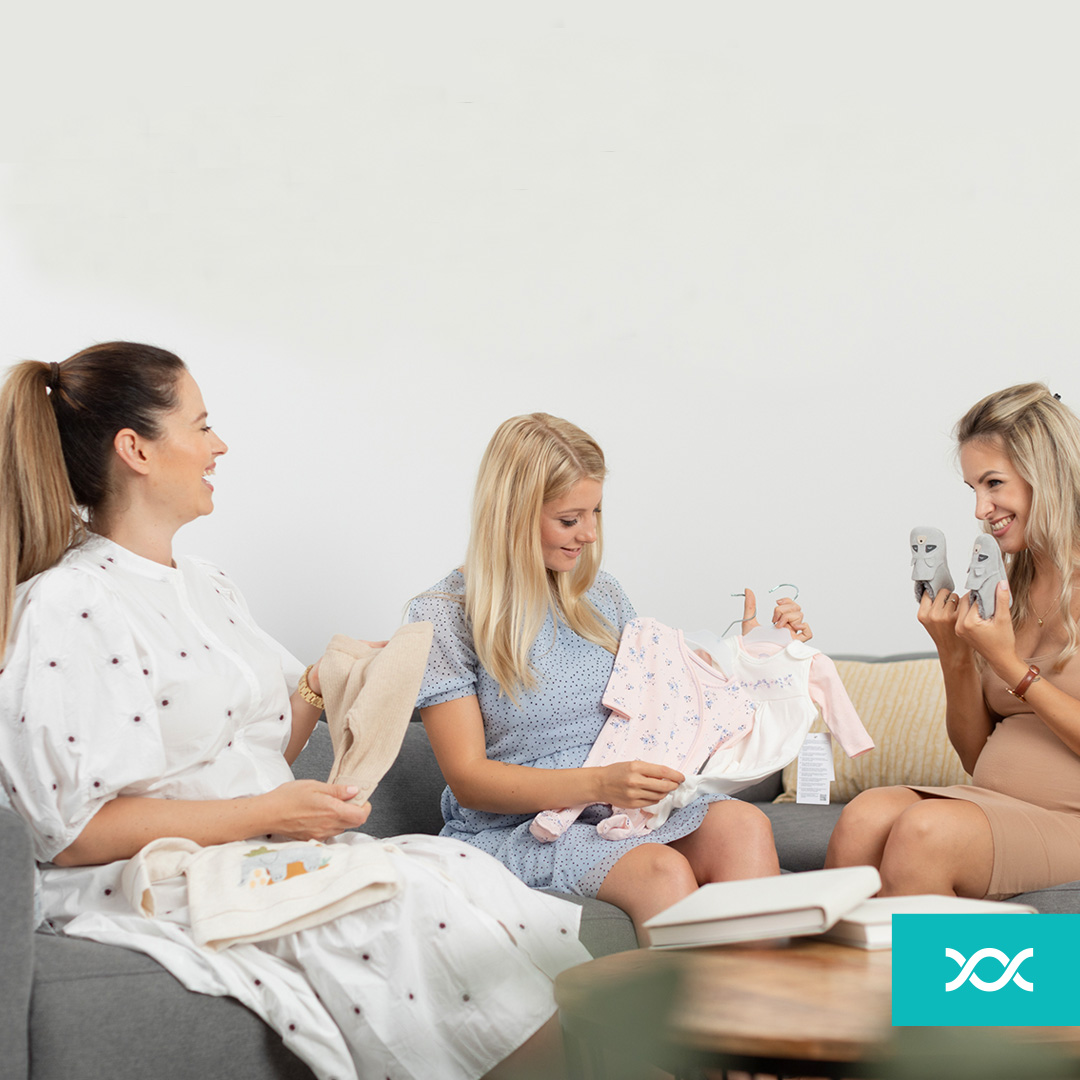 8. Focus on your health
As a new mommy, you are fully focused on your baby. And your little bundle of joy has undoubtedly turned your life – and daily routine – on its head. But don't forget about yourself!
While the postpartum period is definitely not the time to make any drastic changes to nutrition and exercise. But once you settle into your new role, it is good to know where you can get the best tips for healthy nutrition, exercise, sleep, and more.
Besides your NIPT by GenePlanet results, our platform offers many different ways to track your health and wellbeing. Health Score lets you assess your current state of health, Food ID gives you a personalised list of foods that are healthy or unhealthy for you. Home DNA tests reveal your genetic predispositions for lifestyle traits or disease risk and help you improve your habits of address disease risk with personalised recommendations.
More than 5 million women all over the world have already placed their trust in our test. Whether you're pregnant, planning a pregnancy or you just like to be in the know; when it comes to the genetic health of your unborn baby, NIPT by GenePlanet is the no. 1 choice.